What is It Takes a Village?
Children who are reading proficiently by the third grade have a better chance of successfully navigating through middle school & staying on track to graduate high school. It Takes a Village, made possible by funding from the Freeport Community Foundation & the Northern Illinois Community Foundation, matches students who are behind their reading grade level with a volunteer mentor that works with them weekly to help build strong literacy skill & instill a positive attitude about reading. 
Program Reach
Volunteer Reading Mentors are matched with the lowest level reading students as indicated by kindergarten baseline data

Reading mentors may tutor up to 3 students weekly for 30 minutes each during the school day in the classroom or other designated areas within the school

Each school year, new volunteers are recruited, trained & matched with incoming kindergarten students
2021/2022 School Location(s)
GET MORE INFORMATION AT OUR VIRTUAL OPEN HOUSE!
Image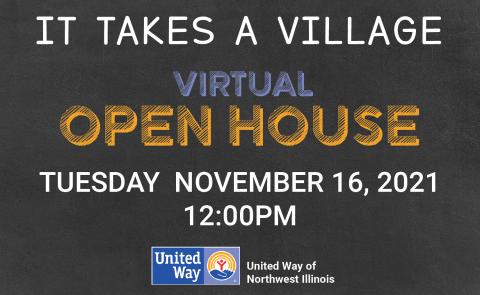 WHAT YOU NEED TO KNOW
2021/2022 External Process for It Takes a Village
Interested Volunteers should complete the It Takes a Village Volunteer Form below

After we receive your form, we will contact your with directions on how to register/submit for a background check with the Freeport School District. 

When the background check has come back, the District will notify Connie at United Way & we will get in touch with you.

Once the background check has been approved, United Way approves the volunteer and makes the connection between the mentor & teacher at Center School.
Frequently Asked Questions
What is It Takes A Village?
It is a reading Volunteer Mentoring program to help bring children behind grade level up to grade level in reading. Mentors meet one on one with the students.
How often will I mentor?
Mentoring is based on what the teacher thinks is best for the student. Most mentoring is done once a week for 30 minutes based on mentor and student availability.
What tools will I used during mentoring?
The teachers will provide you with the tools you need for the student(s) you are mentoring. This could include books, math problems, games, etc.
Where does the mentoring take place and when?
Mentoring takes place on school grounds during the school day.
How are student chosen to participate?
Students are chosen by the teacher based on academic needs.
Can I mentor just one time?
We see the most improvement in students who have the same mentor over many weeks versus a student who has a different mentor each week. We strongly encourage our mentors to be committed to once a week for the entire school year.
What do I do if I have to miss a week or cancel last minute?
We plan to have substitute mentors arranged for mentors to contact if you need to cancel. If all goes as planned, we will have a substitute mentor for each participating mentor to alleviate any gaps in mentoring students.
When will the program start in the Freeport School District?
We will start the program based on teachers' needs and mentor availability after background checks are complete.
Who are the Partners in It Takes A Village?
United Way of Northwest Illinois, Freeport Community Foundation, Community Foundation of Northern Illinois, Freeport School District, and many business and volunteers in our community.
Can I give gifts to my student?
We recommend that you do not give gifts to your student(s).
Can I contact my student(s)outside of school hours?
We do not recommend that you contact your student(s) outside of school without direction from the teacher.
Do I have special access at the school, because I am an ITAV mentor?
No, you will follow all Freeport School District rules concerning volunteering.
Please Note: Strict confidentiality is an important part of the ITAV program. We ask mentors to not talk about the student(s) they are mentoring outside of the school. Also, the mentor should limit conversation regarding their student to only the teacher directly involved with the student.
Becoming a part of It Takes a Village
Interested teachers should email Connie Kraft at the United Way of Northwest Illinois director@uwni.org
Who are the mentors?
The mentors consist of retired teachers & local community members that are volunteering their time to the program

All mentors go through the Freeport School District office & have to complete a background check before becoming a mentor, & are required to follow all volunteer rules & policies of the district

Confidentiality is an important part of the program & mentors are advised to limit their conversations regarding their student(s) to only the teacher that is directly involved with the student(s)
How do I let mentors know when I need them in the classroom?
We suggest that you stay in touch with your mentor through email. Calendar invites are always a useful tool to make sure everyone is aware of scheduling.